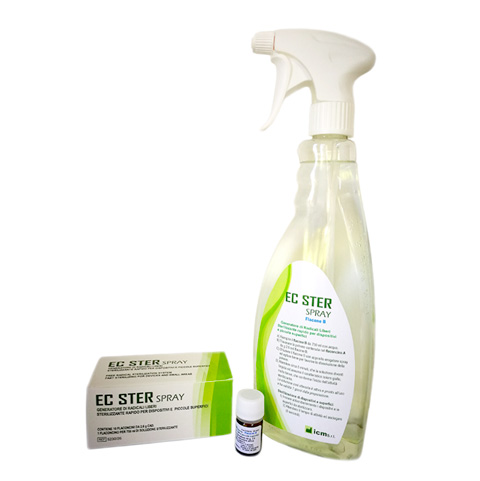 EC STER SPRAY
Quick sterilising Spray for small surfaces and devices
EC STER SPRAY is a cold chemical steriliser in powder form. It is used in 'spray' mode for rapid sterilisation of invasive and non-invasive medical devices, small surfaces, operating tables, dental units, instrument shelves, healthcare equipment.
The sterilising solution is prepared directly in the supplied 750 ml bottle.
EC STER
Cold chemical steriliser, with cleaning action, for reprocessing the medical devices
EC STER is a cold powder steriliser with a detergent action. It sterilises and simultaneously cleans dirty instruments in a single treatment (in the absence of detergents and enzymes) through an immersion procedure in its free radical-releasing solution with reducing activity.
Would you like to expand your professional offer with new treatment possibilities?